"King of Hearts" On Exhibit
The Visions Art Museum in San Diego, CA has the entire "Art Quilts: Playing With a Full Deck" on exhibit until April 7, 2019. It is now a part of the museum's permanent collection, thanks to Nancy and Warren Brakensiek. My "King of Hearts" is one of the 54 quilts - one representing each card in a deck. For more information about the museum and this exhibit go to: https://www.visionsartmuseum.org/playing-with-full-deck/.
New Classes and a New Lecture
I hope to see you at the 2017 Houston Quilt Festival, Nov 1 through Nov 5. I'll be doing both the Friday and Saturday Samplers and have a new class, #324, "Embellished Cross-Body Bag" with beautiful kits (including a fabric version of one of my antique post cards) available in several colors: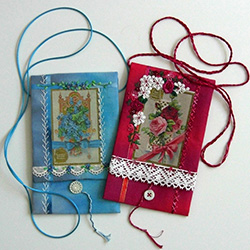 If you enjoy my Weekly Photo, come join me for #452 the "Digital Divas Seminar" Thursday 9am to Noon. Iíll share lots of tips for taking better photos and share my easy system for organizing images so you can find them again! No supplies needed!
Want a break from walking the show floor? Pay at the door for Lecture #472, Thursday 5pm-6pm "Lace-Smuggling Dogs & Embroidery Fads: The Secret Life of Your Embellishments".
QSDS 2016 Is Coming Up!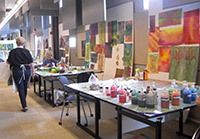 The Quilt Surface Design Symposium offers two, five and seven day classesĖenough time to really explore a new technique in depth. And each week, the Wednesday bus tour will go to Athens, Ohio to see Quilt National 2017. I just love it and have learned so much. So think about coming to Columbus where you can learn something new, make art and make new friends. Check it out here: http://www.qsds.com/classesbysession2017.html.
Donna Desotoís latest book, "Inspired By the National Parks"
is now in print!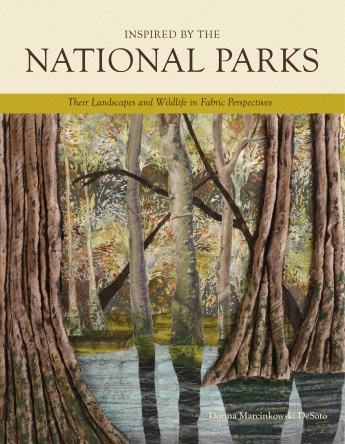 This book includes essays by a ranger from each park and three quilts illustrating the landscape, flora and fauna. Iíll bet you have friends or family who would enjoy this book. See my quilt here. You can learn more about the National Parks Challenge and the book here: http://www.npscentennialquilts.com.
New This Year at Quilt Festival!
I am participating in a new event at the Houston International Quilt Festival this fall: the "Halloween Tricks and Treats" forum, on Saturday, Oct 31 from 3-5 PM. Here is a sneak peak of my Halloween banner, which incorporates fabric versions of some of my vintage post cards: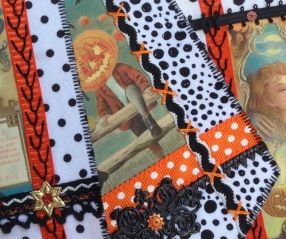 All six teachers will share short presentations about our work. Then you will visit each of us in turn for an in-depth tutorial. Lots of great ideas and inspiration without having to pack any class supplies! Visit the Quilt Festival website! Itís a fun group of teachers. Check out Margarita Koriothís blog and the websites of Laurie Ceesay and Cyndi Souder.
Yes, I am teaching at the 2014 Houston International Quilt Festival!
Please tell your friends!
Take a look at a detail of one of my tag books like what you can make in Saturday's class #514 "Words of Wisdom":

And here is a sneak peak of the gorgeous kits for my Saturday afternoon class #761 "Stitchery With Hand Dyed Fibers":
Since I provide almost everything, you can even sign up for this on short notice. In addition to my lecture #371 (Digital Divas) on Wednesday 2-3 PM, you can find me at the Mixed Media Miscellany and the Saturday Sampler.
See you at the Houston Quilt Festival Oct 31-Nov 3, 2013
Going to Festival? Yes, you can sign up for classes, etc, at the last minute. Iím doing a new lecture about shooting and organizing your digital photos. To see my entire schedule
click here
.
Here is a peek at some of my new Collage Tag necklace samples:
Iím donating some fabric postcards to the Friends For Life fundraiser at Festival: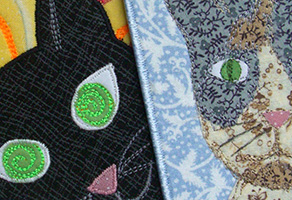 See these plus others in my
gallery
.
See my photo in the "Eye of the Quilter" exhibit
If you are going to Houston for Quilt Market Oct 27-29 or Quilt Festival Nov 1-4, check out the beautifully-mounted photography exhibit. This yearís theme is "Favorite Things." Iím honored to have a photograph selected for the show. Here is a little bitty detail. Can you guess that my favorite color is blue?
"Arts & Old Lace" Now On View
I was honored to be included in this exhibit of more than 80 quilts, organized by Cyndi Souder. Lace is one of my favorite media. Itís so interesting to see how other fiber artists used lace. The show will be on exhibit at
Artistic Artifacts
until Sept. 30, 2012. To see a full view of my piece,
click here
.
My Classes and Presentations at the Houston International Quilt Festival.
Iím excited! The catalogs are in the mail and I thought you would like to see more photos of what I will be offering at Quilt Festival. Detailed class descriptions and images are in the Classes section of my website. Questions? Contact me. Here are some more photos. Enjoy!
"Crazy Quilted Pins and Pendants" my all-day class #330 on Wednesday Nov 2: No sewing machines! Relax, hand stitch and embellish a pin or pendant in your favorite colors. Make yours simple or elaborate, bold or delicateówhatever suits your style.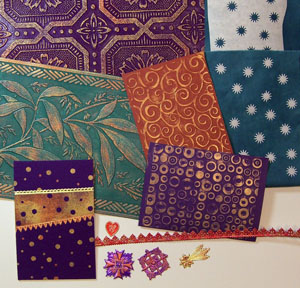 "More Metallic Marvels" part of #465, the Mixed Media Miscellany, 2-4 on Thursday Nov. 3: Adding metallic paint to embossed cardstock or wallpaper. And some new ideas for working with Dresdens, the charming pressed paper decorations.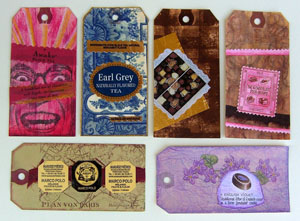 "Tea & Chocolate Tag Book" all-day class #518 on Friday Nov 4: Here are just a few more tag pages. Wait until you see the bits and pieces I have for the class! We will collage papers and fabrics, add color or a little hand stitching, write or glue thoughts and quotes on the backs of the tag pages. Eat some chocolate, drink some tea and bring the wrappers of your favorites.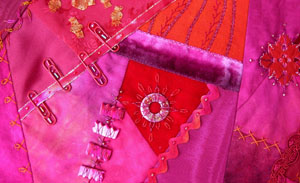 "You Want Me to Add WHAT to My Crazy Quilt?", part of #740, the Saturday Sampler, 10-12 on Saturday Nov 5: Potential embellishments are everywhere. Let's think about some possibilities, and how they could be used.
See my photo from "Eye of the Quilter II"
I was thrilled to have a photo accepted for the "Eye of the Quilter II" exhibit that was so beautifully displayed at the 2010 Houston International Quilt Festival. I'll post the photo, with new text, on Sunday, November 21. In the meantime, here is a detail (Click to see higher resolution version).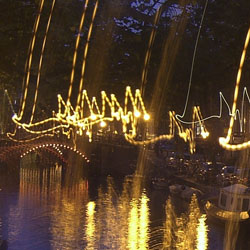 2-Day "Paper & Fabric Collage" Class Scheduled for 2010 QSDS
Some of you may know that I am the Historian for the Quilt/Surface Design Symposium held in Columbus Ohio each June. This coming year, I will switch into teaching mode to bring my "Paper & Fabric Collage"class to QSDS.
Join me on Friday June 4 & Saturday June 5 for two days of experimental play, with the emphasis on using rescued, found & scrounged papers and fabrics. It doesn't matter whether or not you have previous experience in collage.
This picture shows my own versions of some of the warm-up design exercises we do in class. Check out the full description and supply list at www.QSDS.com There you can also see the collage I made as my self portrait.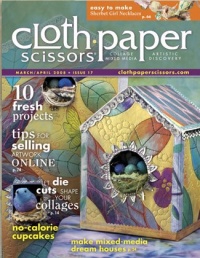 I'm in Print!
April 2008
The March/April 2008 issue of "Cloth Paper Scissors" includes my article about using disperse dye to transfer a vintage photo to fabric. Because it was scheduled for March/April, I created a fabric and paper collage with a Poisson díAvril theme (see below). Missed the issue on the newsstands? Go to www.clothpaperscissors.com to order back issues, and to peruse the other creativity-inspiring goodies available there.