Sometimes it's fun to work small. The postcards are mainly fabric, with paper or embellishments added as needed. I work on a base of Timtex, which makes them easy to sew but sturdy enough to mail.
Whatever Strikes My Fancy
ATCs are an opportunity to try out tools, techniques and ideas that may be useful later. These include salt-crystallized watercolor washes, stamping on top of text, embossing powders, quotes and metallic Dresdens.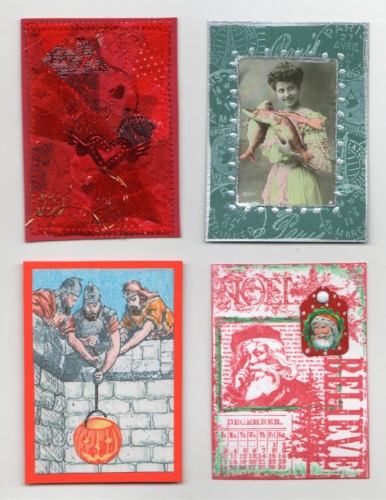 Seasonal
My Valentine ATC is stitched, Halloween has become surreal and Christmas includes small tag. The lady with the fish? She is celebrating Poisson d'Avril, otherwise known as April Fool's Day
Birthday Cake
The cake and candles are cut from Marit Kucera's hand-dyed fabrics. Her website is www.m-artistic.com. Free-motion stitching is Madeira multicolored rayon thread.
Faux Crazy Quilt 1
Hand painted background and dyed embroidery fibers
Silver Edged Leaves
Metallic stenciling. Velvet leaves and silver Dresden trim are from Tinsel Trading, NYC
Tree Silhouette
The sky is Marit Kucera's hand-dyed fabric.
Cat on Catnip
The background is hand-marbled cotton.
Artist Trading Cards, usually referred to as ATCs, are 2 ½" X 3 ½" and are always traded or given away. I belong to two trading groups. We set a monthly or bi-monthly schedule of themes. I enjoy working in such a small size, creating variations on a theme — even if it is a topic that did not appeal to me upon first thought. Having a starting point is a motivator, and also gives me an excuse to go into my studio and start creating.
Stitched ATCs
The two top ones have hand stitching. For the one on the right, I stitched through a metallic paper Dresden medallion to attach it to its bubble-wrap-printed background. The red ATC includes candy wrappers and sequins trapped under a bit of netting. The distressed maid is stepping out onto outer space fabric. Rubber stamp is from Bartholomew's Ink.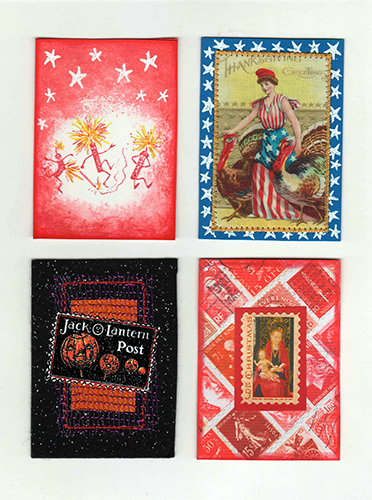 Holiday ATCs
Holiday-themed ATCs are a nice little surprise to tuck into a card. The firecrackers are half of a rubber stamp from 100 Proof Press. I printed my vintage Thanksgiving post card onto fabric and stitched it with metallic thread. The Halloween rubber stamp is from Stamp Francisco. An old Christmas postage stamp is the perfect scale for an ATC.