Crazy Quilting
This is one of my favorite techniques. Crazy piecing, by nature, is asymmetrical and there are no points to match. It allows me to indulge in my love of fabrics, laces and trims of all kinds. I enjoy embroidering and embellishing my work and often combine machine and hand stitching. See the Artwear gallery for some of my crazy-pieced garments.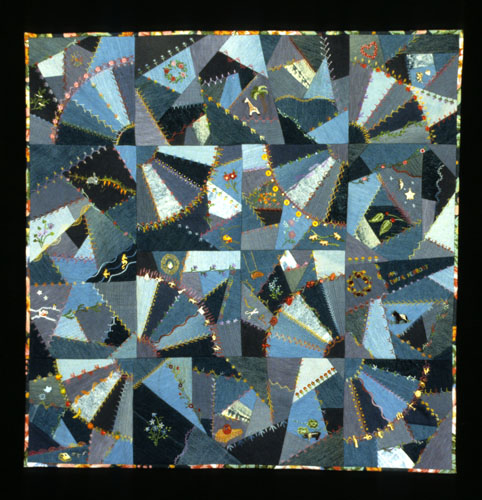 True Blue Crazy Quilt
36" X 36"
Made from twenty years' worth of blue jeans, this quilt was one of the two shown on the cover of "Old Glories', the second book co-written by my sister, Susan Greenhut, and I. It was great fun to assign a theme to each block. One is embroidered and embellished with buttons and images representing food, another with clothing and accessories.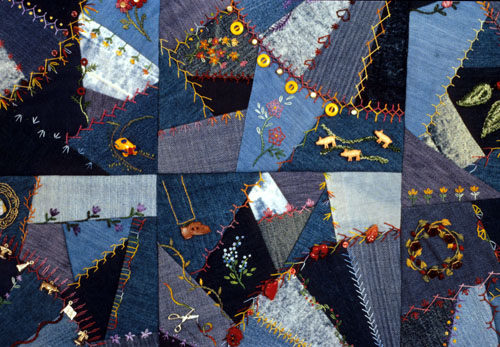 True Blue Crazy Quilt
(Detail)
All About Estelle
26" X 17"
A gift created to mark the 90th birthday of my great-aunt, Estelle Lay Hermann. Disperse dye transfers of family photos personalize it.
Here are a few small quilts in my "Love Tokens" series. Each one includes a fabric transfer made from one of my vintage postcards.
Happy Birthday
12" X 16"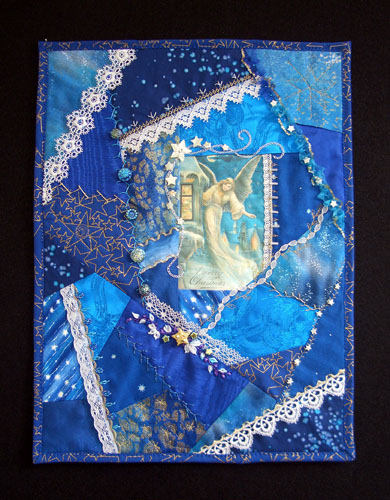 Blue Angel
12" X 16"
Santa in the Pines
15" X 17 ½"